The Sudetes - Metalliferous black shales in SW Poland
CANCELED We are very sorry for your inconvenience.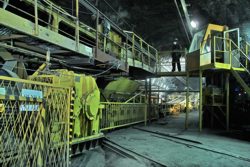 27 - 29.09.2014
Leaders: StanisławWołkowicz, (PGI-NRI) & Stanisław Mikulski (PGI-NRI)
& Sławomir Oszczepalski, (PGI-NRI)
Number of participants: Minimum 15, Maximum 25
Cost: 350 EURO (1400 PLN)
Includes: field trip guidebook, transportation, full board & accommodation (single rooms)
Start: 27.09.2014 | Saturday > Warsaw (Polish Geological Institute – NRI, 4 Rakowiecka St.)
Finish: 29.09. 2014 | Monday > Warsaw (Polish Geological Institute – NRI, 4 Rakowiecka St.)
Transport: bus
Field trip route: 1st day > Warsaw – Kielniki near Częstochowa (core review in the PGI-NRI core repository at Kielniki) – Lubin (lodging)
2nd day > Lubin – outcrops in the North Sudetic Basin, exposure of Lower Paleozoic Kaczawa Series in the Radzimowice area – Lubin (lodging)
3rd day > R–udna deep copper mine operated by KGHM Polish Copper S.A. – Warsaw. The total distance of this excursion is around ––1,300 km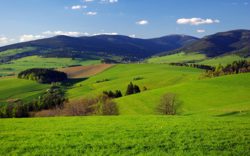 The Sudety Mts region belongs to the most interesting and diversified in geological structure in Poland. Igneous, metamorphic and sedimentary rocks exposed in that region are varying in lithology and age, from the Neoproterozoic to Paleozoic and Mesozoic to Cenozoic, represented by cones of basaltic volcanoes which can be seen the route of the field trip. In the outcrops and core repositories we will be able to study shale,claystone and mudstone rocks as well as metamorphic quartz-sericite schists, rich in organic material and exhibiting different degrees of thermal maturity. The displayed material will also show effects of geological processes to which these rocks have been subjected (various types of mineralization and alteration and tectonic deformations).
THE MAIN POINTS IN THE FIELD TRIP ITINERARY WILL INCLUDE VISITS IN THE FOLLOWING LOCALITIES:
Core repository at Kielniki near Czestochowa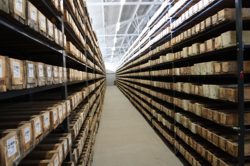 Because of very limited access to outcrops, the borehole section of Lower Permian claystones and mudstones with uranium mineralization will be displayed. The gathered core material will mainly include Lower Permian Walchia shales deposited in Carboniferous-Permian intermontane basin of the Mid-Sudetic Depression. This is a series of fine-clastic lacustrine sediments up to 400 m thick and with 12 horizons of uranium mineralization. The mineralization is mainly related to black claystones and mudstones, often calcareous and rich in organic matter.
Outcrops of Zechstein copper-bearing shale (Kupferschiefer)
In eastern part of the North Sudetic Basin, we will see copper-bearing shales of the Zechstein, exposed in Nowy Kościół and Lena outcrops, where their exploitation was abandoned in 1968 and 1973, respectively. Those outcrops are displaying typical black copper-bearing shales with mineralization of copper and lead and zinc sulfides as well as shales with red hematite-rich patches and spots. The latter are characterized by high degree of degradation of organic matter and high levels of its thermal maturity. This along with the wealth of aromatic hydrocarbons indicate secondary alteration of originally black shales under influence of oxidating solutions. Oxidized rocks are very poor in copper and silver at the advantage of gold and platinium group elements.
In the Lena area it will be possible to visit the Mining and Metallurgy Heritage Park in Leszczyna and Dymarki Kaczawskie ancient blast furnaces exposition.
Outcrops of Lower Paleozoic Kaczawa Series in the Radzimowice area
The outcrops make it possible to study lithology and mineralization of metamorphic quartz-sericite black schists of the Lower Paleozoic Kaczawa Series, characterized by high levels of thermal maturity of organic matter. The rocks show effects of sulfide mineralization and as well as gold-bearing polymetallic mineralization overprinted in zones of igneous Variscan intrusions.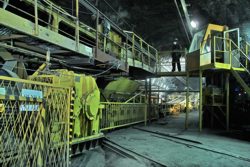 Rudna copper mine operated by KGHM Polish Copper S.A. – the world leader in production of silver and copper We will spend the last day of the field trip in a place highly attractive for geologists – the Rudna copper mine. There, at the depth of over 1,000 m, mining experts of the operator of the mine - KGHM Polish Copper S.A. will be our guides and give introduction to geology of Zechstein copper-bearing shales (Kupferschiefer), with form one of the largest world reserves of copper and silver ores, and technology of their production.
The Rudna mine is located in central part of the Lubin-Sieroszowice Cu-Ag deposit in the Fore-Sudetic Monocline. The deposit is related with a mineralization zone developed in rocks belonging to three lithological types of rocks: Rotliegend sandstones and Zechstein shales and dolomites. The mined parts of the deposits are characterized by highly diversified tectonic conditions and thickness changes from 0.5 to 20 m. In almost a half of the Rudna mining area the deposit series ranges from 5 to 10 m in thickness, and in over one-fifth of the area its thickness is larger, exceedings 10 m. Daily ore production in that mine is about 39,810 tonnes and the annual - is close to 12.362 million tonnes. Copper grades are equal 1.80 %, and silver - 51 g/t.
The Zechstein black shales have been deposited under highly reducing conditions which played a decisive role in origin of the Cu-Ag ores. These conditions were responsible for formation of so high concentrations of metals in that relatively narrow lithostratigraphic horizon. A special attention should be paid to wedging out of the Zechstein shale in areas elevations related to major Rotliegend dunes. The shales are very rich in organic matter with thermal maturity corresponding to early phases of oil generation and oil (0.5-1.3% Ro). The values Ro indicate temperatures of mineralizing solutions up to 135oC. The main ore minerals include here Cu-sulfides: chalcocite, digenite, cowellite, bornite and chalkopyrite. There were also identified a few dozens of accompanying and accessory minerals, often yielding priceless admixtures of recoverable elements such as silver, gold, palladium, platinium, rhenium, selenium and nickel.