Abstracts will be published in a post-conference volume.
Deadline: 31st July 2016
Post-conference articles are welcomed to a volume of the Geological Quaterly https://gp.pgi.gov.pl/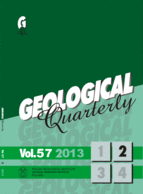 The Geological Quarterly is abstracted and indexed in: Science Citation Index Expanded including the Web of Science, Research Alert, Current Contents/(Physical, Chemical & Earth Sciences), American Geological Institute/Bibliography and Index of Geology, Elsevier/GeoAbstracts, GEOBASE, BIOSIS UK/Zoological Records and Geological Bibliography of Poland. IF 2014 = 1.0, 5-Year IF = 1.0. Score
of the Polish Ministry of Science and Higher Education = 20.